Ruth is a completely self-taught artist who loves the challenge of many different mediums, drawings with graphite and ink and paintings with water-colour, ink & acrylics. Combining this with her love & beauty of nature, the story that each painting portrays is a one of a kind masterpiece. Her love of life, nature, animals, people and pet are evident in each of her paintings.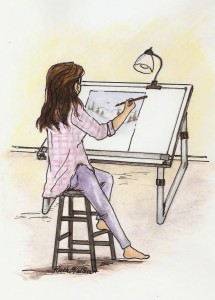 Ruth's art developed at a very young age. At the age of eight, she had gotten her first commisioned work. Her art was judged in many contests throughout school and was a collection of artwork that travelled the world. Her Mother was her inspiration and losing her at a very young age had set her artwork at a standstill for a few years.
Meeting her husband and starting a family took priority for the first little while. Fruit farming in Beamsville Ontario and markets in Northern Ontario took up most of their early years together. In the mid-sixties, their lives took a new path and their teamwork unfolded in everything they did.
Their combined work and experiences have led them through many challenges and facets of life. Ruth now lives with her loving husband in Port Loring, Ontario. Her husband George has special talents of his own with woodworking and combining her talents with his, they started their own Gift Shops. That led to many customized paintings and a variety of subjects that has developed her talents in so many ways. Her works of art have gone all across Canada, United States and around the world.
She has now combined her talents with her husbands writing career and now have 6 published books. Her illustrations in each book bring the stories to life as the pages unfold. The warmth and love that her husbands' stories portray are captured in each drawing. The Covers of each book is an original painting Ruth masterfully painted, which takes the viewer on a personal journey through time where his stories reside.
These illustrations are available in print as well as their "Story Time Cards" Their Native American Flutes are also their combined talents. George creates and tunes each flute and makes them sing the most wonderful music that can tame the wildest creature.
Then Ruth uses her talents to do the delicate painting on each one and using her carving skills to carve the totem that goes on top. She then carefully paints and does the leather work to bring each flute to the final stage. The carved end flutes are another added feature that makes these special flutes one of a kind and an heirloom to pass on for generations.
Ruth's art is first created from pencil sketches, from these sketches her mixed media paintings of acrylic & pen are completed with a technique she developed during the last 25 years. Her play with acrylics has made many of her admirers inquire if they are water-colour or acrylic or oil. The texture in which she chooses in her art is what makes each painting so unique. It all depends on how she wants to relay her feelings into the painting.
Her realism in each painting is very important and the many years of consignment work and her strict attention to detail have made her strive for perfection. The variety of her work and subject of her paintings vary, but the true feeling of warmth, love of life and nature always show through in her finished work.
Ruth has now reached another path in which she is ready for a new challenge of expanding her horizon and venturing on to new levels. Time to travel and take her new inspirations and new creations not yet foreseen. We welcome you to follow her dreams and see where they lead and what creations come from her new adventures.